New prodesign Acceleration Card Includes Samtec NovaRay® Extreme Density Arrays
The recent popularity and interest in ChatGPT underscores the progress AI has made in affecting everyday life. Who has asked ChatGPT to finish a homework assignment or write a blog. (For full disclosure, this blog has been written by a real person. Or has it?
Some good examples of new acceleration platforms are the "prodesign HAWK" and "prodesign FALCON" from PRO DESIGN. The new FPGA cards target High Performance Computing (HPC), They have been developed with a focus on innovation, tip-of-the spear technology, and the highest quality requirements and functionality.
Based on 40 years' experience in the E²MS and FPGA market, PRO DESIGN has extensive knowledge in the area of FPGA design, board development, electronic engineering, high-performance PCB design, construction, production, assembly, and testing. PRO DESIGN's specialists work closely together and take advantage of interdisciplinary synergies. The results are powerful, cost-efficient high-end solutions characterized by sophisticated concepts, short process cycles, and high reliability.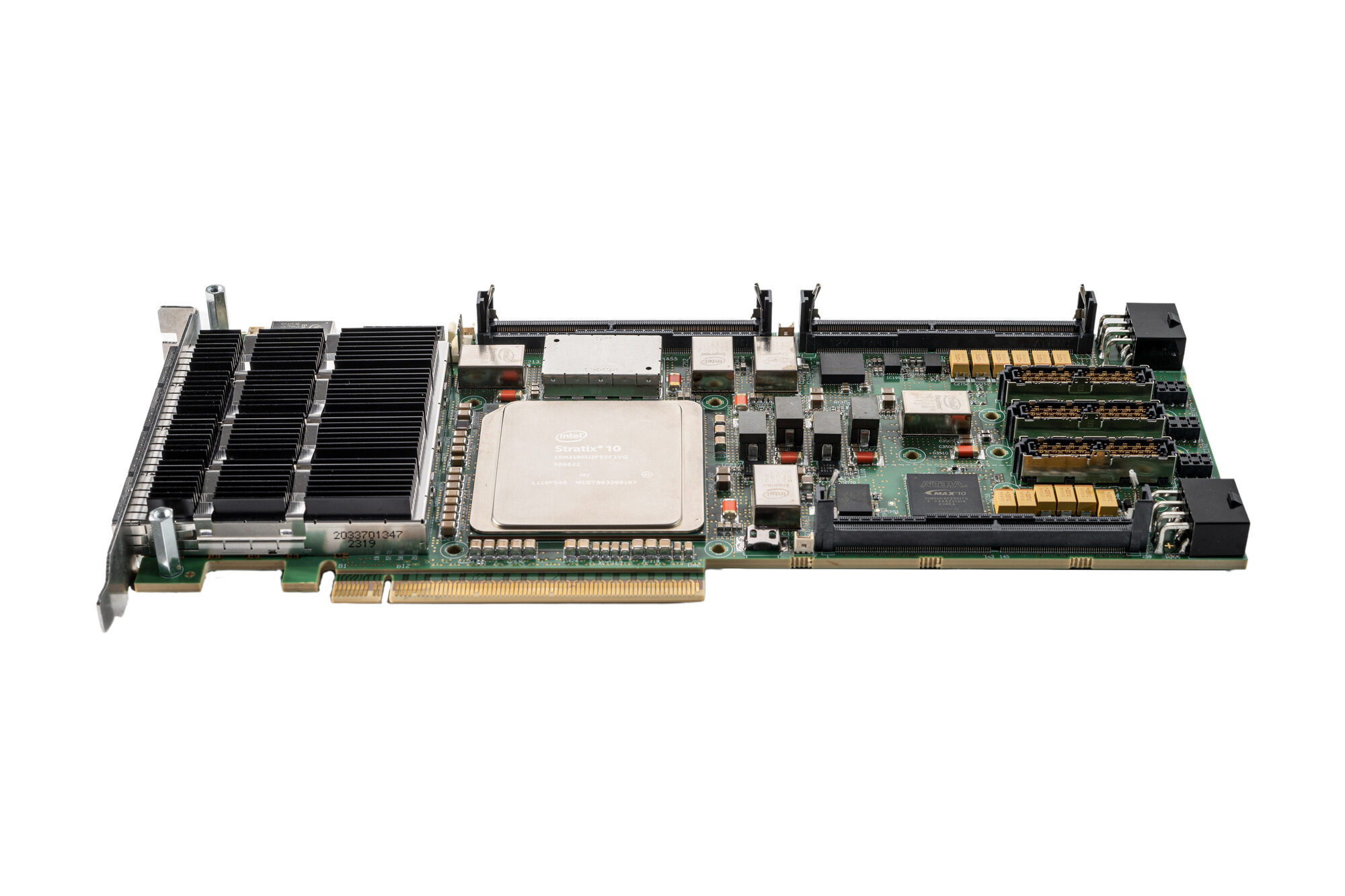 The prodesign FALCON Stratix 10 FPGA PCIe board is based on Intel's high end Stratix 10 MX/NX technology and is the ultimate multifunctional accelerator for HPC, data center, virtual networks, and broadcast solutions.
Stratix 10 has massive memory bandwidth (up to 512Gbit/s) by the integration of 3D-stacked High Bandwidth Memory 2 (HBM2). Over 2.000.000 Logic Elements (LEs), over 3900 Digital Signal Processing (DSP) blocks, and a transceiver speed of up to 57.8 GBit/s (PAM4) allow the user to realize their design with maximum flexibility at maximum speed. In addition, the PCIe card is equipped with an Intel MAX10, which is used as Board Management Controller (BMC).
Besides Stratix 10 technology, the prodesign FALCON supports PCIe® 3.0 x16 and offers incredible high I/O bandwidth featuring four 100GE QSFP-DD front ports enabling 8x 100Gbit/s or 4x 200Gbit/s.
Huge connectivity is achieved by implementing three programmable SO-DIMM sockets for DDR4 memory modules or custom extension boards and three NovaRay 112 Gbps PAM4 Extreme Density Arrays from Samtec.
The innovative design of NovaRay combines extreme density and extreme performance, which is critical as system sizes decrease and speeds increase. The fully shielded differential pair design and two reliable points of contact contribute to the industry leading 4.0 Tbps aggregate data rate.
The NovaRay connectors perfectly complement the prodesign FALCON card's connectivity. Eight transceiver lanes, ten additional I/Os, and two differential clock pairs per NovaRay provide the possibility to interconnect multiple PCIe cards or add custom extension boards, all while maintaining an unrivaled small footprint. The option of using NovaRay arrays or cable assemblies fully leverage the flexibility of the pro design FALCON platform.