Production
On about 2.000 m² of production area, we manufacture according to your specifications electronic boards, devices and turn-key end products in accordance with the IPC-A-610D standard. Our qualified processes are designed and optimized for fast prototype production and demanding small and midsized series. Short setup times in combination with our flexible working hours ensure maximum flexibility during the production process. Therefore we can guarantee delivery dates and react quickly if changes are necessary.
Our certified, well-structured production processes coupled with our consistent focus on innovation ensures short reaction times, economic efficiency and highest quality in every detail.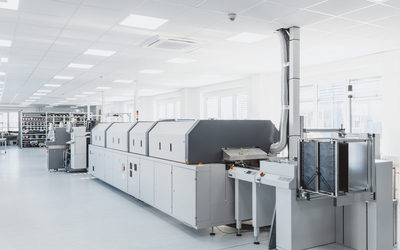 SMD Assembly with latest Technology
In 2018 PRO DESIGN invested into a production hall with a new production line of SMD Machines: a soldering paste printer, three new assembly machines of ASM Assembly Systems GmbH & Co. KG as well as two convection reflow soldering systems with vacuum of Rehm Thermal Systems GmbH.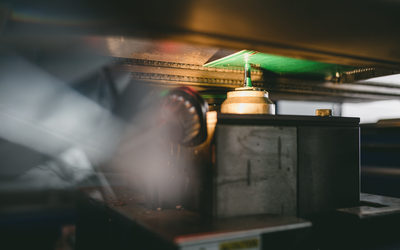 THT Assembly
This soldering process can be done by machine as well as by hand. To facilitate this process, PRO DESIGN owns specific Selective-, Wave- and Vapor-Phase Soldering Machines.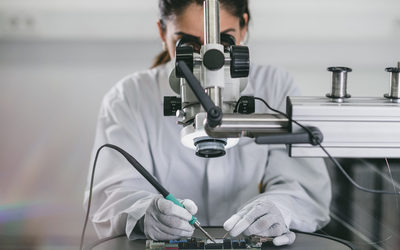 Manual Assembly by our well-trained employees
Based on 30 years of practice in the E²MS market PRO DESIGN has gained extensive knowledge in the area of manual assembly. Starting from smallest components to highly complex assemblies, everything can be processed inhouse.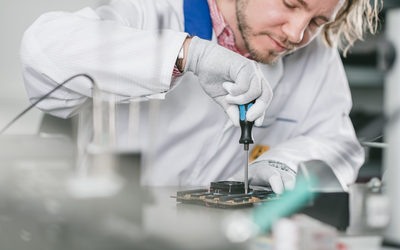 Assembly Process
In Addition to the manual and SMD assembly, components and comblete devices are assembled product-related and cost-efficient at PRO DESIGN.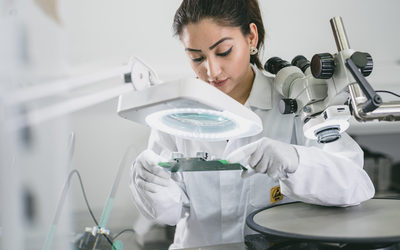 PRO DESIGN focuses on
Prototypes and medium-sized series
Assembly of smallest components starting from 01005
Press-in Technology and adhesive bonding
BGA, μBGA and FPGA assembly and rework
Cabel confection
Materialmanagement, Logistics- and Stockholding Processes