PCB Layout & Construction
The Central Interface between the Customer, Development, PCP Manufacturer and Production - this is where all the threads come together
The growing technical and economic challenges of the markets lead to highest requirements on the printed circuit board design (PCB layout). With several man-decades of experience and the latest know-how our 10-member CAD team realizes cost-efficient and standard-compliant designs in a very short time.

For example, we layout the most complex circuits with 60+ layers or high-performance designs. With professionality and competence our engineers advise our customers regarding appropriate base materials, structures, regulations and practical board designs for specific applications. The PCB layout team is a key interface between customer, R&D, production and PCB manufacturer – here all comes together.

PRO DESIGNs Experts master the dissolution of complex digital and analog circuits as well as PCB designs of any complexity and technology: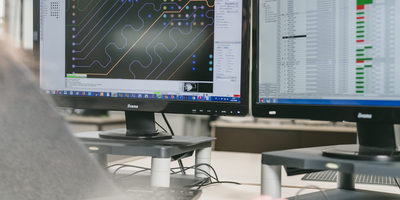 Softwares in the PCB Layout and Circuit Design
Altium Designer
Cadence Allegro & Constraint Manager
Cadence Design Entry & OrCad Capture
Eagle
Mentor Xpedition
Pulsonix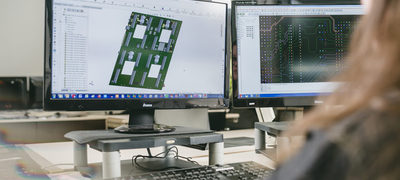 Realisation of mechanics by using
CircuitWorks (3D-Assemblies)
Creo
SolidWorks for 3D-Constructions
SolidWorks for cabel modeling
Strengths and services of our CAD-Team:
Creation of a circuit diagram
Creation of a data base for Layouts (3D Models)
Creation of 3D Mechanical Construction of electronic Assemblies (3D-CAD)
3D supported collision check
High Performance Design with a view to Signal integrity and optimized Rooting
Modeling of 3D models inclusive wiring and cabling
Multilayers with 60+ layers
Rigid, flexible and rigid-flex PCBs
EMC-optimized and impedance checked layout
Thermal management
Provision of norm compliant production documents and documentation


Our highly qualified CAD-Team works with the most advanced layout tools and designs amongst others most complex FPGA and high-speed layouts in the field of image processing, probe cards for Automated Test Equipment (ATE) for the semiconductor industry and flexible circuit boards for the medical field.