After-Sales-Service
Our Service especially for your Product
"We won´t leave you out in the rain" - our motto in each division. PRO DESIGN Electronic GmbH works in a straight contact to your company in every step of our collaboration. Starting with the project planing and via shipping of your product up to our costumer service - we help you wherever we can.
Our After-Sales-Service guides our costumers in all sections, which can arise afters the manufacturing of your product. Our service includes an implementing at your company, redesigning of your product or our costumer service regarding repairs. Let us know if we can help you in any way.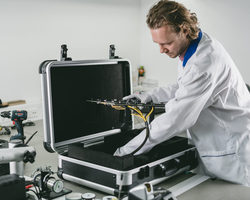 Implementing at your Company
You want your new product to be first installed at your company by one of our employees? This ain´t a problem for PRO DESIGN Electronic GmbH either. We help you to get in contact with your new product - step by step. Our experts can help you in any way - even if there should be a problem, we can fix it right in time.
PRO DESIGN Electronic GmbH also offers an implementing at our headquarters. Preferred in your presence, we finish the final installations and start with the implementing of your end product. Due to this reason, errors and running problems can be fixed right in time and complications can be prevented.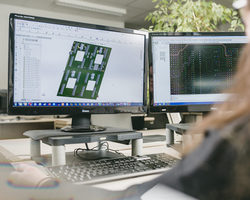 Redesign, Product Optimization and Further Develompent
If the worst case should have happened and the time ran by and your procuct ist over the time, PRO DESIGN Electronic GmbH is looking forward to help you in developing your follow-on product. We don´t make a difference even if your product was developed at PRO DESIGN Electronic GmbH or not. We take this as an opportunity to improve your product and our knowledge. You need a new design or a change from analog to digital operation, please feel free to get in contact with our experts.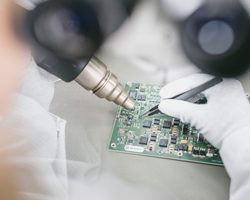 Error Analysis and Repair Service
Nobody is infallible, so do we - but we do all the best we can, to avoid any errors and complications. However should there be any problem with your product, manufactured at PRO DESIGN Electronic GmbH, our experts will give you the best full service. Starting with an optical inspection up to a detailed error analysis - we won´t avoid any way of troubleshooting. PRO DESIGN Electronic GmbH also offers you a way to be updated right in time - with your provided service number, you can always ask for the progress of your items being reworked or repaired.